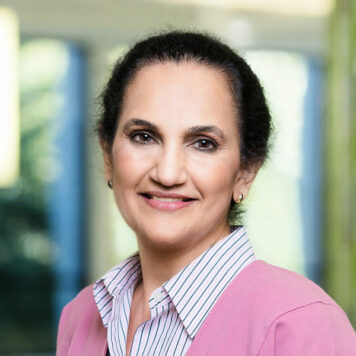 Founder President, TransThera Consulting Co
Adjunct Professor, Dept of Neurology, Feinberg School of Medicine, Northwestern University
Dr. Kalpana Merchant has deep expertise in the neurobiology of chronic neurodegenerative and psychiatric disorders. She has >30 years of experience in drug discovery and development in large pharma (Pharmacia/Pfizer and Eli Lilly) and small start-up pharmaceutical companies, where she has served in executive roles. She now resides in Portland, OR, and continues to provide consultancy/advisory services to biopharma companies, equity investors and non-profit institutions. Kalpana serves on the Oregon Innovation Council, a public-private partnership appointed by the governor and legislature, that is tasked with spurring innovation-based business opportunities in Oregon. She is a charter member for TiE-Oregon, part of the global non-profit TIE network, that aims to foster entrepreneurship through mentorship and investment.
Kalpana contributes to academic research, training and mentoring of graduate students, postdoctoral scientists and junior faculty through her adjunct academic position in Neurology at Northwestern University. She serves on several advisory panels at National Institutes of Health (NIA, NINDS, NIDA, NCATS) and is a Senior Advisor to the Michael J Fox Foundation for Parkinson's Research.
Kalpana received her PhD in neuropharmacology in 1989 from the University of Utah. Following postdoctoral research at University of Washington, she was appointed Assistant Professor of Psychiatry at the same institution, from where she transitioned to pharmaceutical research in 1993.